Garmin G1000NXi in the Piper M500 and M350
VERO BEACH, Fla., January 9, 2018. Yesterday, Piper Aircraft announced the FAA certification of the G1000 NXi next generation integrated flight deck on both the M500 single engine turboprop and M350 pressurized, single-engine piston and is set to offer it as a retrofit option (via STC) for fielded G1000 equipped Matrix, Mirage (M350), and Meridian (M500) aircraft later this year.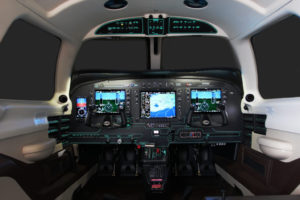 The G1000 NXi system features wireless cockpit connectivity, enhanced situational awareness, visual approaches and map overlay on the horizontal situation indicator, among other items. Additionally, faster processing power supports improved map rendering and smoother panning throughout the displays. Optional features such as SurfaceWatch, Flight Stream 510 and improved ADS-B options like the GTX 345 are now all available in the next generation M350 and M500 Piper products. Read more about Garmin G1000 NXi here
"We are thrilled to announce the introduction of the next generation G1000 avionics in the Piper M500 and M350, further enhancing their position as the "value leaders" in the market place. NXi equipped M-class products are now being delivered as we continue our focus on completing the NXi STC for fielded G1000 equipped M-class products. This is another example of our commitment to continually upgrade and improve our products and support our customers," said President and CEO Simon Caldecott.
This follows a year after the two Trainer aircraft, the Piper Archer LX and the Seminole, were certified for Garmin NXi January 9th last year. The final aircraft in the Piper product line to be certified for Garmin G1000 NXi is the Seneca V and Piper Aircraft say they expect to begin deliveries of the Seneca V with the latest in Garmin avionics in Q4 2018.
What we love about the Garmin G1000 NXi is that it is much faster and much more intuitive and easy to navigate.
If you own a G1000 equipped Matrix, Mirage (M350), or Meridian (M500) aircraft and are interested in the Retrofit option that will be available in the end of 2018, give us a call and we might be able to assist you.
All the Best – The European Aircraft Sales' Team