Piper Receives Largest Trainer Order in Company History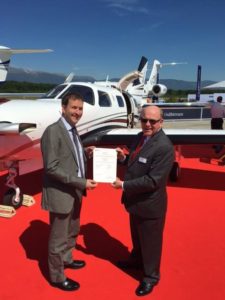 VERO BEACH, Fla., February 7, 2018 – Piper Aircraft, Inc. has received an order for 152 aircraft from Fanmei Aviation Technologies, Piper Aircraft's exclusive dealer in China. This is the largest single trainer order received by Piper Aircraft in company history. Fanmei Aviation Technologies is a subsidiary of Sichuan Fanmei Education Group co. Ltd which is a leading provider of aviation education in China.
The historic seven-year purchase agreement, valued at $74M, includes 100 Archer TX single engine trainers, 50 multiengine Seminoles, one Seneca and one Piper M350. Deliveries begin in March with the first aircraft going to the Fanmei Flight School in Sichuan province.
"We are very excited to have Fanmei Aviation Technologies in our Dealer Network," said Piper's Asia Pacific Sales Manager, Jeremy Prost. "
Fanmei Education Group has a great vision for the future of General Aviation in China and we believe that this vision and commitment will work in pair with Piper's 80 years of aircraft manufacturing experience to supply high quality aircraft and support to Chinese customers."
"The agreement and cooperation with Piper Aircraft is the key element for our general aviation roadmap," said Don Li, President of Fanmei Aviation Technologies. "Everything else was already in place, including a quality training program with committed staff and outstanding facilities, and now we have added to our fleet, in my opinion, the premier training aircraft in the world with the Piper Archer and Seminole, which will help prepare our students for their continued success after graduation. In addition, as the exclusive Piper dealer in China, we look forward to serving our customers in the fast-growing general aviation market, not only with excellent Piper aircraft, but also with our most dedicated high-quality services."
"Just as we are making history with receiving this large order, so is Fanmei by establishing a prestigious pilot development program to meet the growing need for exceptionally trained airline flight crews. This is a wonderful opportunity for both organizations as we work collectively to help address the global pilot shortage." said Piper President and CEO Simon Caldecott.